Courtesy Hypomania
Greetings on a frosty sunny suburb of London. I know the Oxford link below is mainly about the UK but these I feel to class them as auto crats have a sort unnamed club worldwide, these are not the big game players but stiff little petty officials who have caught onto anything to lock down and control people, nasty officious people who have a little power and it goes to their bonce.
I know I am reiterating and many readers are going to grumble and tell me off but I feel the urge to repeat this often. So if you are angry with me please 'sob, sob, spare the fact that at 84 years of age I am trying to reach as many people as I can. I live a simple life in a former shelter housing building now over 55 years can live here and I came here twenty years ago because I had severe health problems and in those twenty years I have as perhaps many have seen profound changes.
Courtesy Shanghai Tribune


Oxford or Wuhan
For a start can you imagine this spreading to the whole of the UK or the world, isolation and depression, children segregated, fear and suspicion, we already have a financial lockdown and the same symptoms of the Covid lockdowns will arise just after we may be coping after that.
My feelings about climate change can be found in;
blogs Monday 24 May 2021
Courtesy Inc.com
Read in article about the cameras; what is the difference between the Chinese colour code and the OXFORD permits. Mind you the UK local councils are begging the Government for more money as many of the local services for care, council tax, road repairs, homelessness, garbage collection and all else are being cut out or sadly neglected, mind you the Councillors want their salary rises whilst the staff and others stage strikes for more wages. I do not see any councillors or any poor or struggling MP's our prime minister has £75.million in the bank and his wife is a millionaire in her own right, I am not jealous believe it not, I once was very wealthy and well known in certain circles and it brought my 'so called downfall' I am grateful to have a small dwelling and two small pensions.
UK city defends new 'climate lockdown' policy
A 'traffic filter' program that fines residents for traveling outside their neighborhoods too often is raising eyebrows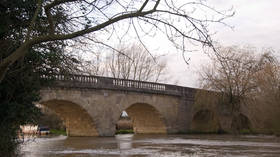 The city of Oxford has embraced the concept of limiting citizens' personal travel to fight climate change, an idea once dismissed as a conspiracy theory.
The Oxfordshire County Council's so-called 'traffic filter' system, adopted last week, has gone viral, denounced as the first step toward "climate lockdowns" by climate skeptics and civil liberties activists.
The city will be divided into six "15-minute neighborhoods," containing all local necessities, with residents required to register their cars so their comings and goings can be tracked by a network of cameras. They are allowed unlimited movement in their own neighborhood, but in order to drive through the filters, they must apply for a permit. Read more in link
https://www.rt.com/news/567860-oxfordshire-climate-change-lockdown-traffic/?utm_source=Newsletter&utm_medium=Email&utm_campaign=Email
· CHANGES IN THE SOLAR SYTHEM ---PLANETS---- ASCENSI...
· PHOTON BELT---BLACK HOLE-- THE EXTINCTIONS----SYMP...
This plays into the hands of the New World Order; not only satellite surveillance but drone, cell / mobile phone and all else as mentioned in last three blogs, total privacy demolished, fear of doing anything and being watched, this will give Herr Swab with Uncle meatless and insane Gates orgasmic ecstasy, I wonder if some of the OXFORD mob really have thought this through or could it be some of them are WEF disciples?
What is a permit colour coded existence do for the sanity and normality of some sort of elementary living other in an already paranoiac WHO and a hungry vaccine profit motivated pharmaceutical industry.
Watch out for these voyeurs and hungry get rich local 'overlords', petty officials and intellectual snobs who feel depriving people of their freedom is clever and is definitely a local eugenics movement and probably have their meetings and self ego boosted.
BE WELL
Geoff
WHAT IS THE DIFFERENCE BETWEEN COLOUR CODING CHINA AND PERMITS IN OXFORD? ONE IS COVID AND THE OTHER CLIMATE.
THEN THE FEAR OF A NEW BUG, WAR OR SHORTAGES OF ENERGY--WHAT A LOVELY WORLD TO BRING CHILDREN INTO.