Hello and have a great healthy and stress free New Year and to assist with stress try what they are now naming 'mindfulness' it is like meditation and the differences are mainly choice and when and where you first were taught it or by yourself from literature or video about it. As a personal note I feel imagery, music, affirmations, prayer, chants, mantra, yantra, hypnosis, visualizations and similar aspects are definitely helpful and may lead up to meditation.
THE SUN IS DIMMING:
Yesterday at Cape Canaveral, SpaceX
launched
a new sensor to the International Space Station named
TSIS-1
. Its mission: to measure the dimming of the sun. As the sunspot cycle plunges toward its 11-year minimum, NASA satellites are tracking a decline in total solar irradiance (TSI). Across the entire electromagnetic spectrum, the sun's output has dropped nearly 0.1% compared to the Solar Maximum of 2012-2014. This plot shows the TSI since 1978 as observed from nine previous satellites: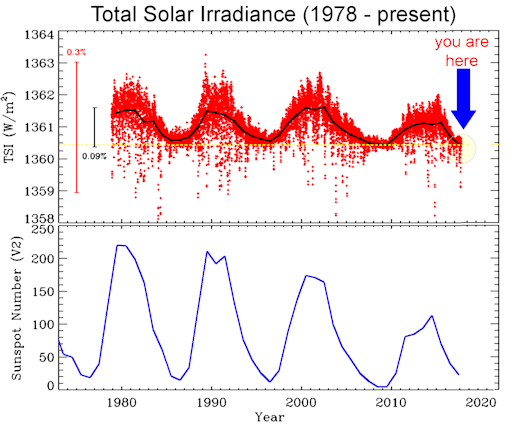 Click here for a complete explanation of this plot.
The rise and fall of the sun's luminosity is a natural part of the solar cycle. A change of 0.1% may not sound like much, but the sun deposits
a lot
of energy on the Earth, approximately 1,361 watts per square meter. Summed over the globe, a 0.1% variation in this quantity exceeds all of our planet's other energy sources (such as natural radioactivity in Earth's core) combined. A 2013 report issued by the National Research Council (NRC), "
The Effects of Solar Variability on Earth's Climate
," spells out some of the ways the cyclic change in TSI can affect the chemistry of Earth's upper atmosphere and possibly alter regional weather patterns, especially in the Pacific.
NASA's current flagship satellite for measuring TSI, the Solar Radiation and Climate Experiment (SORCE), is now more than six years beyond its prime-mission lifetime.
TSIS-1
will take over for SORCE, extending the record of TSI measurements with unprecedented precision. It's five-year mission will overlap a deep Solar Minimum expected in 2019-2020. TSIS-1 will therefore be able to observe the continued decline in the sun's luminosity followed by a rebound as the next solar cycle picks up steam. Installing and checking out TSIS-1 will take some time; the first science data are expected in Feb. 2018. Stay tuned. (Courtesy spaceweather.com)
By now you will have become familiar with my take on these climatic and solar events and if not a synopsis from Post 300 onwards will be useful.
Karen Nyberg Astronaut . Washing her hair in space.
Scott Kelly Eating in the ISS. What a performance. Scott spent nearly a year on the ISS.
There is information from NASA based on Scott Kelly and the comparisons between his identical twin brother who stayed on Earth if you can find it, Scott has written a book and not a lot of detail comes from it, similar to Chris Hadfield's book, enough to whet the appetite. NASA is working hard to find solutions to many issues in order to combat danger in the intended Mars Mission, although why they do not just admit what Ben Rich and Don Phillips in the last Post stated and all this money could be used to benefit so many real needs.(more info on challenges in space in Addendum at end)
https://www.washingtonpost.com/world/national-
security/head-of-pentagons-secret-ufo-office-sought-to-make-evidence-public/2017/
Gigantic Jet Lighting ---a space atmosphere phenomena. 3 mins
| | | |
| --- | --- | --- |
| All-inclusive Northern Lights trips in Tromsø, Norway. Small groups, big experiences! Highly qualified guides ensure unique and unforgettable adventures with a personal touch. Visit Explore the Arctic | | |
SOLAR SECTOR BOUNDARY CROSSING:
On Dec. 22nd or 23rd, Earth will cross a fold in the
heliospheric current sheet
--a vast wavy structure in interplanetary space separating regions of opposite magnetic polarity. This is called a "solar sector boundary crossing," and it could trigger geomagnetic activity around Earth's poles. Arctic sky watchers should be alert for auroras when the crossing occurs.
Free:
Aurora alerts
.
GIGANTIC JETS:
Back in the 1980s, researchers were amazed when they discovered
sprites
--luminous red forms dancing on top of intense electrical storms, reaching their strangely-shaped tentacles up to the edge of space. Since then, sprites have been photographed by astronomers around the world. Now a new form of upper atmospheric lightning is being seen: the Gigantic Jet. "They are related to sprites, but more powerful and easier to see with the naked eye," says Frankie Lucena of Cabo Rojo, Puerto Rico, who has photographed almost 2 dozen this year so far:
"Gigantic Jets are more rare than sprites," notes Oscar van der Velde, a member of the Lightning Research Group at the Universitat Politècnica de Catalunya. "While sprites were discovered in 1989 and have since been photographed by the thousands, it was not until 2001-2002 that Gigantic Jets were first recorded from Puerto Rico and Taiwan."
Before 2017, Gigantic Jet sightings numbered in the dozens. Lucena alone has added approximately 20 to that total in a single year. "These jets came from 4 different storms," says Lucena. "They were all tropical waves except for tropical storm Harvey, which was by far the most prolific producer of the jets."
The most recent event in Lucena's collection was on Sept 30, 2017--"just 10 days after Hurricane Maria devastated my island," he points out. The capture is a testament to Lucena's dedication and observing skill. He powered his cameras using a gasoline generator and a backup battery because the island's electrical grid was almost completely disabled. "I wish I had solar power at my house because the lines for gasoline were very long and money spent on it really hurt the pocket. We went 82 days without power," he adds.
Gigantic Jets and their cousins the sprites inhabit the upper atmosphere alongside auroras, meteors and noctilucent clouds. Some researchers believe they are linked to cosmic rays: subatomic particles from deep space striking the top of Earth's atmosphere produce secondary electrons that could, in turn, provide the spark for these upward bolts. Courtesy spaceweather.com
8 mins about chemtrails---it is sensitive because German Aerospace lost his job over exposing them and is barred from getting work in any aerospace industry.
Sami Peoples and the changes to their lives----like the Sun at top of blog-----changing times. 12 mins.
Although I am all for change in many things I do not feel that building and mining for ores, gas extraction, especially fracking is helpful to the Sami and other ethnic races as we could employ natural means of which there are some 91 inventions, however this would be free energy and without much profit once the the means of extracting that would have been built.
Amazing. 4 mins
This is a question and answer session in Ireland with a link to Daniel of Dark Journalist.
The filming is poor but some other questions and answers are very revealing.
It was very pleasant to have a sort of natural meeting, a bit amateurish in its presentation and informal, just to my taste anyway. The mixture of presenters was great. Great to see Kerry and Daniel very big presenters and well known being humble and attentive.
Taxi of the future----controlled by the 4. 5G network, it has arrived. 5 mins.
More passenger drones 11 mins
Is this the future? Well they would have to have a means of air traffic control with all the vehicles using space-----perhaps laser airways, like lanes of light equivalent to roads? It's all about getting to work, meetings and the like, fast, perhaps stay at home or central libraries where work could be done by more efficient Skype type conferences thereby clean air, less noise and more leisure time for reading, exercise, social gatherings to play music with neighbours, acting and drama and creativity, ways of sharing and caring.
Quantum sensors and humans can have them as well. 2 mins
As predators go, sharks have got to be up there with the most impressive. Not only do they have size, speed, and blockbuster movie credentials, but they are also born with a fascinating sixth sense.
Instead of using their vision or sense of smell to track down all of their prey, sharks are able to use electro-sensory organs to 'listen' for bioelectric traces in the water around them.
And now, in a new study, humans have created a way that we can do this too.
Now a new study has developed a 'quantum material' that can exactly mimic this ability with a similar field of sensitivity to that reported in sharks.
The new sensor is made of a material called samarium nickelate, a quantum material which conducts protons very fast - leading the researchers to wonder if it could be useful for developing a copycat sensor.
An initial prototype was then tested in simulated ocean water environments designed to cover the wide ranges of temperature and pH found across earth's oceans. And it worked.
Not only did it function in low temperatures, but the saltwater did not corrode it even after extended periods of testing.
The team hopes that the technology could be applied in various disciplines from marine biology - to study ocean organisms and ecosystems - to defence, helping to monitor ships for military and commercial purposes.
In future work, researchers plan to test the devices in real oceans instead and may team with biologists to apply the technology to broader studies.
https://phys.org/tags/electrical+properties/
https://www.thesun.co.uk/tech/1974700/former-nasa-astronaut-claims-the-pope-knows-aliens-exist-and-want-to-help-humans-but-a-space-war-is-imminent/
Many years back in the 80's when I used to lecture in Rome at the FAO UN for a month stay and regularly for eight years I made contact with several Cardinals who shared many secrets with me and I have catalogued these in the late energygrid and some in this site. You may find more in the search bars. ( More through Black Space Below) (also lectures as in Rome to the EU in Brussels for many a long weekend throughout a eight year period---met many NATO people who shared many things---especially UFO)