H e l l o j u s t to say welcome and I leave this space for the on going to reveal itself. B y e for n o w. (266 A Follows)
Gordon Cooper Astronaut
Gordon Cooper Interview
Edgar Mitchell Astronaut
Edgar Mitchell Astronaut.
In many of my blogs in the grid and this site I have said I communicated with the late Edgar Mitchell and knew him years back and Scientist Willis Harmon when they formed the Institute of Noetic Sciences.
One of the aspects coming out of space and the ISS is the epiphanies that are happening to these highly trained personal with Space agencies.
Edgar hinted to me along with other astronauts that they went to the moon in another form of vehicle. I have hinted at this in Post 140(scroll down to Ben Reich ---Sometimes know as Dr Ben R Rich). Also please refer to my UFO Story http://www.energygrid.com/destiny/geoff-freed/2005/05.html
Astronauts share their views of Earth Gazing and their experiences. 19 mins.
AURORA SEASON HAS ARRIVED:
Green is a sign of spring. Green in the skies, that is. For reasons that are only
partially understood
, geomagnetic storms favor the weeks around equinoxes, giving Arctic skies a verdant hue just as Northern spring takes hold. Oliver Wright sends this picture of the phenomenon, taken March 9th, from Abisko, Sweden: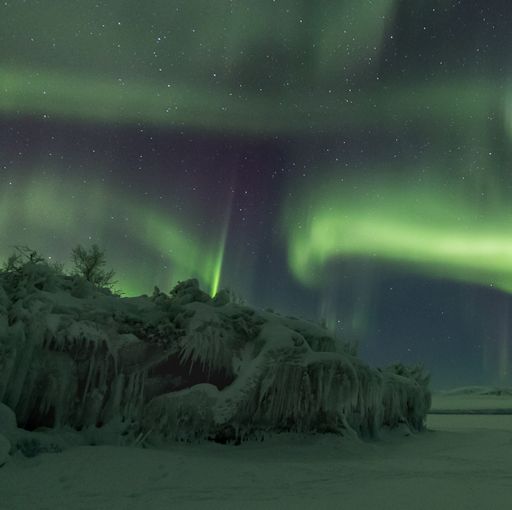 Wright is an aurora tour guide for
Lights over Lapland
. "Last night, after work, I met up with fellow guide (
Sarah Skinner
) and we headed down to the lake to see if we could photograph the aurora with the impressive ice cliffs," he says. "The aurora didn't disappoint whilst we had to listen to the ice groan and crack as the 70 km frozen lake spoke to us. Amazing experience to be visually and audibly blown away like that. If not a little spooky... "
More auroras are in the offing as the equiinox approaches
This above was kindly supplied by www.spaceweather.com and I repeat my comments are my own and not to be read as the donor of the text and photo above.
Again I have to wonder why the fuss in the article 'partially understood' and if you click the link it goes into a multi diatribe of vectors, graphs and so on.
My take on this and agreement with a Inuit I knew was that the light of the days act like a an eclipse, lower temperature, less photons, plasma change, ecological sensing. This means that as all is connected and in oneness, like the human body and all biological beings, the internal and external sensing mechanisms respond(for at the eclipse animals and insects stop their activities and some start, so the Earth being a living organism, a great sentient being, responds like wise.
Moon Madness
Credit: David Acosta Allely | Shutterstock.com
While many lunacies associated with the moon remain largely myth, some strange patterns of animal behavior have, indeed, been linked to the lunar cycle. A variety of rationalizations explain these effects: A full moon can provide a time cue for synchronized events, facilitate visual communication in the nighttime, or just scare normally night-active nocturnal animals into the shadows. Here are six of the most unexpected ways the moon affects animal behavior.
I have Posted the effects of the Full and New Moon on Humans and some hospitals and Police forces are alerted as the crime waves, accidents and health especially mental occurrences are more prolific)
Indonesian 2016 eclipse shows insects and animals response. 5 mins. Courtesy of NASA.
Courtesy of WDDTY Lyn- McTaggart.
As the first research director of the National Dental Association (precursor of the American Dental Association) Weston Price, was, first and foremost, a dentist, and so he saw health from the point of view of an open mouth. And what he began to take note of was that indigenous people around the world, who'd always had robust good health and straight, fine teeth, were getting cavities.
Those inhabitants still consuming a native diet had virtually no tooth decay, but those adopting an imported 'Western' diet, even a supposedly healthy one, had smaller jaws, more overcrowded teeth and early signs of the chronic dietary diseases so characteristic of industrialized nations.
Very different diets
Although all the diets were essentially low-carb, high-fat and high-protein, Price discovered a huge variation in the macronutrient intakes across healthy native communities.
The Inuits and Native Americans, for example, ate very large quantities of fish because they lacked the enzyme that can manufacture the vital omega-3 fats docosahexaenoic acid (DHA) and eicosapentaenoic acid (EPA) from other types of foods. But Native Americans from inland rural communities generally had the enzyme, so they were able to produce omega-3s from foods other than fish. They were so biologically different from the Intuits that their bodies handled macronutrients differently.
The Inuits of Alaska consumed a diet rich in fats and oils, and low in fruit and vegetables and a high consumption of omega-3-rich marine foods, whereas the Masai of East Africa ate mainly meat, blood and milk, including up to 300 g a day of saturated fat, and the Samburus of East Africa drank 10 litres of full-fat milk a day, equal to up to 400 g of fat.
The Maori of New Zealand consumed a high-protein, low-carbohydrate diet built around fish, kelp and roots, with protein representing more than 50 per cent of diet, while 64 per cent of the diet of the aborigines of Australia comprised animal foods. The saturated fat intake of the Polynesian Pacific Islanders, on the other hand, largely derived from coconuts.
None of these populations suffered from degenerative diseases like heart disease, diabetes or Alzheimer's, and all had good teeth.
High fat vitamins
When Price tried to work out the common denominator between all these vastly diverse diets he concluded that besides being unprocessed, all contained a far higher animal-protein intake (up to 35 per cent of daily food); far greater fish and dairy consumption, resulting in four times the calcium and other minerals of a Western diet; and far higher fat intake (30-80 per cent of total diet).
But perhaps most significant of all, all these high protein and high fat diets provided these natives with 10 times the amount of the fat soluble vitamins – vitamin A. D and K – of Westerners.
Price realized something else even more significant after he returned home. Once he advised his dental patients to increase their intake of these fat soluble vitamins, their tooth decay began to reverse.
Dynamic reversal
That dental decay can be reversed is a well guarded secret in the dental community, which relies for its income on drill-and-fill solutions. However, new evidence by Australian research shows that dental decay can be easily overcome by simple measures.
A tooth, like a bone, is a dynamic substance which needs something more than an absence of sugar to thrive. Saturated fats perform critical functions in the body: protecting bony surfaces, cushioning internal organs, strengthening cell membranes, building and protecting the nervous system, brain and liver; and helping to protect against osteoporosis, to name but a few. Saturated fats also support the immune system.
The fact that the healthy teeth are dependent upon a healthy dose of fat is yet more evidence that the persistent belief among the medical community about the dangers of dietary fat of any sort is flawed and dangerous in itself.
A low-fat diet doesn't just hurt our hearts and brains, it also hurts our teeth.(I have read Weston Price's book, a great read from me Geoff).
Formation of Stars by Gravity. 2 mins.
My take on this is that the field or the quantum zero potential, is the source of all form be it an atom or a massive Galaxy and Star. The Field is the Source, and all creation is a manifestation of Intent or Intelligence emanating from the the Source, which is an Intelligent Informing Creator-y Mind or Consciousness. An aware Being that underlies all creation.
In the beautiful animation above we see spirals and I feel these are the 'the top of a Vortex' a miniature wormhole / black hole / stargate, in fact gravity is an effect of spin. It is known atoms are constantly popping in and out of of the field.
To me it makes sense that the constant repetitive nature of the Universe, the cyclic be it in differing cocktails made of the same substances or the building 'leggo' bits, particles and so on rearranged portray that this similarity in endless possibilities and probabilities must have and underlying Field which I name consciousness and therefore things spiral in and out of the field as manifestations and proof the field exists. So gravity to me is the frequency of the Spiral and what it draws back to the Field, the spin to the field, the wave becoming the ocean, which I see as the black hole/ worm hole/ stargate drawing it back to the source, the opposite white hole is anti -gravity and allows the reverse spin to manifest from the field / ocean as the analogous wave from the ocean.
See;- http://www.energygrid.com/destiny/geoff-freed/2012/06a.html
Scroll down to Sub Heading Stargate, it is simplistic not because I feel that readers are unable to understand science, nay, for readers who have imagination, for those in science who would debunk these ideas, for those who like me have an overview from either a gift, or a Meta physicists,I know this works as in the link because having seen it built and working and then shut down, because those in touch with ET have verified this, of course the actual application and science is more complicated but easy to those gifted in the quantum engineering field of which I am not.
People often write / email / phone (I only give out my phone and address to people I know well, as many read this I would have intrusions, I still have rude and threatening stuff come to me and lately phone calls that are scams and just ring off before the answer phone 'catches'. The numbers are stored and passed onto the internet police and will be eventually traced, they have a lot of them so the tracing takes time. It does show something of the troubled mind for those who do it. When I was a practising therapist I came across several people who were bothered by this, a kind of threatening phone stalking if you like, and when the perpetrators were caught and volunteered to go for therapy, it turned out they were power seekers / lonely / failed in life / rejected by parents / and in some cases violently obsessed with their own lack of self esteem and wanted approval, some were saying look at me I can have a power over you, I can make you suffer as I did, recognise me, praise me, love me for I never have had the love as a child, see me for who I am and not who you want me to be, accept me and so on.