Hello In my view the The Universal Source is Energy and no one really knows what it is; possibly a force that moves particles and waves resulting in exchanges at the Particle/ wave interface. I feel that this is Consciousness which is an Informing aware intelligence that is the prime activator ---try defining that -----oops.
Electricity for 24 hrs by this bike invention. 3 mins
Trump's Executive order. 3 mins
Did the Earth's Schumann Resonance just double. 8 mins
This is a massive subject. Most of my articles in the 'grid' covered all the ascension process and in the January 2013 and four last blogs were about the 1967 writings which cover all this and more.
In a few Posts back spaceweather.com vindicated my writings about the Sun and its biological effects. I stress my interpretation of their data is my opinion.
The Schumann Resonance is also affected by the magnetosphere as in spaceweather.com and they have found the Earth's magnetic field has weakened(see back Posts).
From the data supplied it is known there are more Cosmic Rays entering the Earth this might be a cause for the upgrade.
UNFORTUNATELY WWW.ENERGYGRID.COM IS NO LONGER AVAILABLE. MY DEAR FRIEND THE EDITOR DECIDED IT WAS TIME TO TAKE IT DOWN AS IT HAD SERVED ITS PURPOSE. HOWEVER MY CONTRIBUTIONS FROM 2005 TO 2013 ARE BEING TRANSFERRED TO ANOTHER SITE. SO FAR IT HAS BEEN TRANSFERRED TILL 2010. WHEN IT IS FULLY LOADED IT WILL BE AVAILABLE FOR REFERENCE AS BEFORE. THANK YOU SIMON MICHEAL FOR YOUR GREAT WORK.
Courtesy 30 molecular designs
Hopefully it is not the result of HAARP or Chemtrails. If not then my 1967 writings stated that; the Earth's vibrations would speed up, that the so called junk DNA would be activated, laying dormant until the coded signals and codes activated them and this would cause symptom such as ;
https://www.energeticsynthesis.com/index.php/ascension-basics/body-changes This is the best of many and I put this up in 2007 in the Grid. It would similar to the video above.
If you do a search bar in the Grid www.energygrid com menu futurity and click on my site there and use the search bar you will many, many blogs about Ascension.
Let us look at the salient points; weak Earth Magnetic Field, More Cosmic Rays entering, Magnetic North veering Eastward, Climate Changes on all Solar System Planets, Climate Change not due to carbon emissions alone Schumann Resonance,Technological and superpowers of some youngsters and so much more if you look at the last four blogs in the Grid you will see a synopsis of this in 1967 and so much more, as to us the ascension symptoms are our response to the changing frequencies, we are witnessing the next upgrade, the reconfiguration of the shift which is the next step in evolution.
It's the food du jour in trendy London restaurants, but quinoa could soon be set to shed its hipster image.
A new study
suggests the nutritious crop is in a prime position to tackle food shortages as the world's population rises.
"Quinoa is incredibly resilient, and can grow in poor or salty soils," Mark Tester, a professor at King Abdullah University of Science and Technology,
told AFP
.
"It could provide a healthy, nutritious food source for the world using land and water that currently cannot be used," added Tester, who's been leading attempts to decode the plant's genome.
Centuries ago, the food was popular among Incas, but it was marginalised when the Spanish arrived in South America and was never cultivated to capacity.
But that could all be about to change.
One of the conventional drawbacks of the crop is that it often produces bitter-tasting seeds, but Tester's DNA sequencing could let farmers easily cultivate plants that are sweeter, as well as being stockier and more likely to survive.
He
told the Telegraph
: "We've pinpointed one of the genes that we believe controls the production of saponins in quinoa, which would facilitate the breeding of plants without saponins to make the seeds taste sweeter."
The price of the food has soared in recent years as demand outstripped supply, but the latest breakthrough would make it easier to grow sellable strains.
The researchers were able to determine the location on the chromosome of 85% of the DNA sequence.
The research raises hopes that scientists will be able to cultivate varieties that don't taste bitter and are adapted to conditions in different regions.
Robert van Loo, a researcher from Wageningen University who was involved in the study, said: "This is a major benefit for plant breeders."
They cannot keep their meddling digits of a natural growth, I'm sorry but that bitter constituent is what makes it so nutritious. They should put him in the loo(pun on his name) and lock in there.
enra Cloud cluster amazing Japanese dance. 5 mins
Water and Dakota infringement of water rights. 8 mins
isochronous tones of 7.83 Htz 6 mins
Some say 7.87 and it the Schumann Resonance frequency which is supposed to be rising at present and indeed for some years----a lot talk about are we waking up as a race---or are there other implications.
http://cdns.yournewswire.com/wp-content/uploads/2014/08/Screen-Shot-2014-08-04-at-7.12.51-PM.png
New DNA Study Reveals Humans Bred With 'Alien Species' see link above.
The above is not news by any means, it does vindicate my late friend Lloyd Pye and the Starchildproject and also an early article by a Professor Chang in this site;
http://www.geofffreed.com/search?q=Professor+Chang Post 2 February 2013 Scroll down to image of article 'cave -----' and carry on reading I mentioned in the Grid I had correspondence with Professor Chang. You might find the whole Post of some interest.
Also you will see that the spaceweather.com data on Cosmic Rays and Low solar output was blogged by me at the February 2013 and I had been begging NASA and others to mention the biological effects of this since 1967.
I am a great admirer of his work
Half of NYT traffic is fake traffic 2 mins
Terrifying. 8 mins
Terrifying Corruption. 6 mins
Intel community are making every effort to upend President Trump. 8 mins
In my view it is a backlash because the Obama, Bush, Bilderberg / elite / globalist one world people have had a setback. This leaves China, Russia, Iran and a few others to fight the good fight if Trump is impeached----scandalous and horrific.
Safe salt levels are double those of current guidelines, say experts
Health warnings about salt have been overdone, an influential expert panel has concluded. The real safe upper limit is more than double the level that health guardians are currently recommending.
People can safely consume around 5 g of salt a day without raising their risk of hypertension (high blood pressure) and heart disease—even though current guidelines warn that any amount above 2.3 g, which is less than half a teaspoon, is dangerous.
Experts from the World Heart Federation, the European Society of Hypertension and the European Public Health Association say they couldn't find any evidence that supports such a low level.
In fact, they say it's not 'feasible' for people to consume such low doses, and it may even be harmful to restrict salt to that extent. Instead, people can safely consume between 3 g and 5 g a day without suffering any health problems, they say.
The current guidelines came about after some studies noted that blood pressure levels had fallen when people were consuming no more than 1.5 g of salt a day, but the findings were 'controversial', the expert panel says.(Courtesy WDDTY)
NEUTRONS IN THE STRATOSPHERE:
In a joint operation on Feb.12th, the students of
Earth to Sky Calculus
and their sister club
Earth to Sky Maritime
launched a neutron counter to the stratosphere onboard a high altitude balloon. Neutrons are an important form of cosmic radiation because they provide much of the biologically effective radiation dose at altitudes of interest to aviation and space tourism. How are these particles distributed through our atmosphere? This is what we wanted to find out.
We've just finished reducing the data and can report that the experiment was a success. Neutrons were detected throughout the 2 hour flight covering altitudes from ground level to 113,200 ft: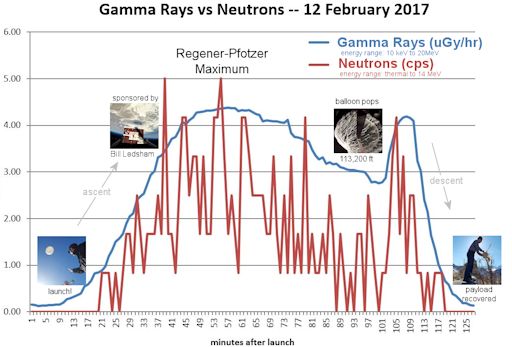 This first data set shows that neutrons, like gamma rays, peak at the entrance to the stratosphere in a layer known as the
Regener-Pfotzer Maximum
. Moreover, neutron counts are significantly elevated not only in the stratosphere, but also at lower altitudes where planes fly (20,000 ft to 45,000 ft)--something to think about the next time you buy an airline ticket.
We've been monitoring cosmic rays in the atmosphere for more than two years, and find that deep space radiation has been
intensifying
. Previous payloads measured only X-rays and gamma-rays, however. The addition of a neutron counter to the payload is a major upgrade, providing a more complete picture of the radiation environment. Stay tuned for updates as we improve our technique and gather more data in future flights. ( COURTESY spaceweather.com)
May I kindly remind you that there is in the above link in a back issue the effect of radiation and Cosmic Rays on human
biology. I gave my own views which are shared by the above link and entirely my own research.
Geoff
ADDENDUM
Autism causes 9 mins
Forbidden Knowledge TV
To read about the authors suspicious death and of others trying to expose these matters.
Very good short video on exercise. 5 mins
A comedy take on New Age food stuff. 7 mins
Young Daughter and Dad---lovely. 3 mins
Again this little lady is three. 3 mins.
THIS IS THE MOST DISGUSTING TREACHERY BY GOOGLE, OH HOW I WISH THERE WAS SOME VIABLE ALTERNATIVE. SHAME ON YOU GOOGLE. 11 mins
Three more Shack . I posted three in the interim.
---