Hello again, we are living in fast and dangerous times. Many people are afraid to walk the streets for crime has gone up. Fear and uncertainty is being geared up by the media. The Western Media merely report stories with very little facts, the facts that they do present are watered down. The alternative media are all tarred with the same brush as mere 'conspiracy theorists' and yet as we are witnessing many of these are coming to be true although after fifty years or so.
True journalism is being suppressed and a one way ticket is on show, no opinion is allowed other than the party official line. Threats I guess are put on the free press and their very lives of their families, themselves are on the line if the cross over it and this extends to the human rights and austerity measures.
As a therapist I came across many clients who were in denial. Denial is knowing in one's depths the actions are false and disturbing and yet through trauma, power, lust or whatever it is more comfortable than owning ones real agenda and motive. I know because I can say I do know by my own habits and actions of which I am constantly reviewing and in contemplation and meditation.
The most heinous is the fact that had the Western forces had they have not gone into Iraq, Libya, Afghanistan, Syria and elsewhere, there would not be this refugee crisis(The UN at last has put Saudi Arabia on the black list for killing thousands of Woman, Men and children in Yemen) whilst the UK and others sell arms to these countries and say 'it is not our responsibility with what they do with these weapons'.
I do not know the answer to all these problems but I do know it is to do with education. History is being rewritten in many countries and young people are given a erroneous history with the old ploy of blaming others and not as it happened. So education is now in the hands of certain governments and not with educated humanitarian benign folk and so education has become a political tool as is the media. Brainwashed and conditioned.
In Lofoten, Norway, citizen scientist Rob Stammes of the Polarlightcenter experienced first contact in a different way. Electricity began to flow through the ground and Stammes' magnetic sensors went haywire: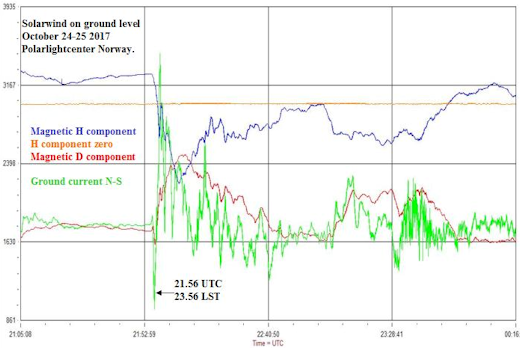 "Last evening the expected solar wind arrived as a kind of shockwave on my instruments just before local midnight." says Stammes. In his plot, the green curve shows ground currents induced by the sudden storminess of the local magnetic field. "From that moment of high activity, I waited with eagerness for darkness to fall so I could see the auroras."
Article and Picture Courtesy of WDDTY
Many of the world's major medical websites are now owned directly—or indirectly—by the pharmaceutical industry, although this is hidden from consumers searching for independent health advice.
WebMD, RxList, MedicineNet and Medscape are the latest to forge ever-closer ties to the pharmaceutical industry after they were purchased by private investment firm KKR (Kohlberg, Kravis, Roberts & Co). The takeover will be finalised by the end of this year.
The sites have always been heavily reliant on advertising income from drug companies—WebMD alone generates around $700m a year—and this has influenced editorial decisions. Medcsape has deleted all negative stories about vaccinations, for example.
But now the pharmaceutical industry has a direct influence over the sites with KKR's $2.8bn purchase. KKR has in its investment portfolio GlaxoSmithKline's older drugs whose patents have expired, Bayer's diabetes equipment division, and 80 per cent of Panasonic Health Care.
Several of their directors and board members also have close ties to the drugs industry, including one executive who is also chairman of Merck.
WebMD's reach in the US is vast, and is one of the country's most influential health websites. It's visited by around 75 million consumers and 650,000 doctors every month.
KKR's Internet Brands division has day-to-day control of the recently-acquired sites. Its CEO, Bob Brisco, said: "WebMD and Medscape are the market leaders in online health with unparalleled reach to consumers and healthcare professionals"—and now they are even better placed to push the pharmaceutical line.
Amazing. Robot Sophia. 5Mins
JFK RELEASED DOCUMENTS AND CIA TRYING TO BLOCK IT. 28 mins
THIS IS A MUST AS IT INCLUDES GENUINE UFO / ET STUFF
IT ALSO HINTS AT THE SHIFT IN EVOLUTION AND FITS IN WELL WITH MY RESEARCH AND MATERIAL FROM 2005 AND CAN BE FOUND IN THIS SITE AND
http://geofffreedarchive.blogspot.in
THESE ARCHIVES ARE THE BLOGS THAT I DID AND WERE INCLUDED IN THE LATE WWW.ENERGYGRID.COM A WONDERFUL ONLINE MAGAZINE. ON THE TRANSFERRING TO THIS SITE ABOVE SOME OF THE PICTURES, , ARTICLES AND YOU TUBE VIDEOS ARE MISSING EITHER DELIBERATELY BY SOME AGENCY OR LICENCE EXPIRED BUT THE TEXT IS IN TACT.
Due to the fact that Twitter and others are now taking down a lot of stuff making it a one horse show and only government policy is acceptable and so debate, discussion, free speech is gradually being stifled.
6 mins. Good Old Lionel
https://www.theguardian.com/technology/2017/oct/26/twitter-bans-ads-from-russia-today-and-sputnik-over-election-interference
BREAKDOWN OF THE ACCOUNTS. 5 mins.
It may seem I am championing RT and you may think because of my family name and ties to Ukraine and Russia I have vested interests. I worked for the Metropolitan Police for 36 years and they searched my history and I can assure you they are thorough. I am a UK citizen and am grateful for the freedom and rights that this lovely country affords me and I like to feel and think that in my work as above and clinical work with patients and being trusted by the UN in Rome and the EU in Belgium that I am loyal to the principles of UK and EU which are; free non abusive speech, that an opposing political opinion is needed (provided it does not breed hate and intolerance) and that debate, discussion are vital to lead to an informed personal opinion and that if one is
accused or slandered, libelled or some such thing then solid evidence and unbiased witnesses should be provided. In all the above then I have yet to see anything resembling evidence; all I have seen is 'it maybe', 'perhaps' innuendo, lies, cover ups and a disenchanted lady who cannot live with the fact she lost the election and those people in the UK who cannot take Brexit both elections were the results of public voting and that's the beauty of democracy. Some countries do not have this freedom and when they do vote they are forced to vote by brutality and threats.
War as a Habit 30 mins
http://www.businessinsider.com/senators-us-troops-africa-pentagon-2017-10?r=UK&IR=T
It seems that there is a sad lack of communication and as we see time and time again many countries have so many subcommittees and departments that do not communicate with the central government each one demanding millions of cash for their work and 'the black' projects have the most. All for the excuse of defence and of course the occupation of troops sometimes causes resentment and abuse on the local folk. This i turn causes more resentment and rebellion and another kind of ISIS. All these splinter groups gang together to form 'so called freedom fighters' who in their turn gather mercenaries and eventually to regime change, cultural loss and enslavement, torture and the horror starts again, interesting that China and Russia are looking to Africa as well -------here we go again.
However I feel the denials, the rumours and shenanigans are part of a wider story which is halt, stop and if possible make the next shift in evolution with its more embracing humanitarian and compassionate unity fail, because this would decentralise the power, lust and greed of a one world dictatorship. Delay it might do but inevitably it will come about and maybe with some help from somewhere else, the fact that Kennedy information above was on about UFO and Reagan's comments on this might also be threat to those powers elitists ------we shall see.
Geoff
Look out for more shackisback.blogspot.com