Hello again. A lot of strange information and such appear these days. How about the video below and make up your mind time again.
(Talking about Mercury Retrograde----a real whopper happened---Post 281 got scrambled --- the date said August 20 2016---it appears in Augusts listing----Click on little arrow in menu at the right side of the Post--- it should turn down and you will see Post 281---its a bit messy ----there is a story line of some incidents that happened to me----and some really interesting videos---apologies I just do not know what happened---please bear with the top half and middle----it does get better)
Incredible discovery ----holographic library found. 2 mins.
New Testing of DNA Skulls in Paracas find. 8 mins
See Also http://www.starchildproject.com/ the late Lloyd Pye was the founder and friend, the project still ongoing. DNA is still ongoing to the skull.
This was going vira in ;Peru in August 2016. 13 mins Unfortunately there is no translation.
Lead prosecutor in Vaccine case--- a real brave man and women. 11 min
From Article
The bloody collapse of Libya – which triggered a refugee crisis and aided the rise of Isis – is blamed today on David Cameron's blunders when he intervened to overthrow Colonel Gaddafi.
A damning report by MPs condemns the 2011 military campaign for lacking both "accurate intelligence" and a coherent strategy for the aftermath of removing the dictator.
The disastrous results were "political and economic collapse", tribal warfare, the refugee crisis, widespread human rights abuses and the rise of Islamic State (IS) in North Africa, fuelled by weapons abandoned by the Gaddafi regime.
The Foreign Affairs Select Committee concludes: "Through his decision-making in the National Security Council, former prime minister David Cameron was ultimately responsible for the failure to develop a coherent Libya strategy."
The scathing verdict comes just one day after Mr Cameron's sudden announcement that he will leave Westminster immediately, breaking an earlier pledge to stay on as a backbench
In the report, MPs say:
* They saw "no evidence that the UK Government carried out a proper analysis of the nature of the rebellion in Libya".
* There was no "defined strategic objective" – which meant a limited intervention to protect civilians "drifted into a policy of regime change by military means".
* There was no attempt to "pause military action" when Benghazi was secured and seek a deal to protect civilians and reform Libya, with the UK instead "focused exclusively on military intervention".
* Mr Cameron should have used Tony Blair's "contacts and influence" to try to secure Gaddafi's exit and a "negotiated solution".
* Many Libyans had taken part in the Iraq insurgency and fought with al-Qaeda in Afghanistan, which meant the rise of militant extremist groups "should not have been the preserve of hindsight".
* There was "insufficient action" taken to secure weapons abandoned by the Gaddafi regime, which contributed to the turmoil and "increased terrorism" across the region.
* Mr Cameron should have been required to issue a formal "ministerial direction" to intervene, noting the Chief of the Defence Staff, Lord Richards, "dissociated himself from that decision" in evidence to the inquiry.
* France led the campaign, noting: "UK policy followed decision-taking in France".
Just six months after sending in the RAF and the Navy, in alliance with France – after the regime threatened to attack the rebel-held city of Benghazi – a triumphant Mr Cameron was mobbed by cheering Libyans on a visit with French president Nicolas Sarkozy.
The two leaders pledged support for the future, proclaiming: "Your friends in Britain and France will stand with you as you build your country and build your democracy for the future."
But the promise proved empty as Libya collapsed into a power vacuum, allowing Isis to seize control of part of the country and people-smugglers to send migrants towards Europe in rickety boats.
Barack Obama has called Libya the worst mistake of his presidency, apparently criticising Mr Cameron personally for the UK's role in allowing the country to become a "s*** *****".
Crispin Blunt, the Committee's Conservative chairman, said: "The UK's actions in Libya were part of an ill-conceived intervention, the results of which are still playing out today. Other political options were available. Political engagement might have delivered civilian protection, regime change and reform at a lesser cost to the UK and Libya."
The international community must now get behind the United Nations-backed Government of National Accord to prevent the country descending into all-out civil war, Mr Blunt added.
Foreign and Commonwealth Office spokesman said: "The decision to intervene was an international one, called for by the Arab League and authorised by the United Nations Security Council. Muammar Gaddafi was unpredictable, and he had the means and motivation to carry out his threats. His actions could not be ignored, and required decisive and collective international action. Throughout the campaign we stayed within the United Nations mandate to protect civilians.
"After four decades of Gaddafi misrule, Libya undoubtedly faces huge challenges. The UK will continue to play a leading role within the international community to support the internationally recognised Libyan Government of National Accord.
"We have allocated £10million this year to help the new Government to restore stability, rebuild the economy, defeat Daesh [Isis] and tackle the criminal gangs that threaten the security of Libyans and exploit illegal migrants. HMS Enterprise and HMS Diamond are both currently deployed to support the EU naval operation to tackle illegal migration, people smuggling and arms trafficking."
ANOTHER TONY BLAIR--WHAT ABOUT OTHER WARS THAT THE USA AND THE UK HAVE GONE INTO. A LOT OF MP'S DID NOT WANT BRITAIN TO GET INVOLVED IN SYRIA -----AGAIN DAVID CAMERON--- NO WONDER HE GOT OUT OF POLITICS ----FAST. THERE SHOULD BE ANOTHER PUBLIC INQUIRY LIKE BLAIR'S. WHAT A SHAME THE USA SENATORS AND CO COULD NOT DO THE SAME FOR BUSH, OBAMA AND CO AND NOW ANOTHER WAR MONGER IF SHE GETS IN--- OUR HILARY.
EARTH's MAGNETIC FIELD RINGS LIKE A BELL:
In the Lofoten Islands of Norway, Spaceweather.com reader Rob Stammes operates a magnetic observatory. 24 hours a day, he measures the strength and direction of the local magnetic field as well as electrical currents running through the ground. During geomagnetic storms, his chart recordings
go haywire
. On Sept. 12th, something different happened. They rang like a bell: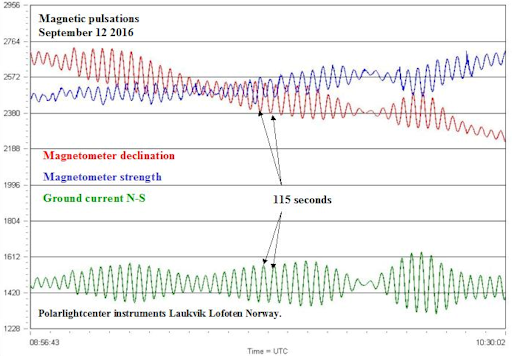 "During the morning and especially
around noon
, sinusoidal pulsations appeared on my instruments," says Stammes. "The period was close to 115 seconds."
These are natural ultra-low frequency oscillations known to researchers as "pulsations continuous" (Pc). The physics is familiar to anyone who has studied bells or resonant cavities. Earth's magnetic field carves out a cavity in the surrounding solar wind. Pressure fluctuations in the solar wind can excite wave modes in this cavity much like Stammes observed.
References:
#1
,
#2
,
#3
.
The magnetic oscillations of Sept. 12th were Pc4 waves; in other words, their frequencies fell in the range 6.7–22 mHz. Pc4 waves, and their even lower frequency cousins Pc5 waves (1.7–6.7 mHz), can have an energizing influence on particles in Earth's inner magnetosphere because the waves resonate with the natural motion of particles around the geomagnetic field.
May I suggest you digest this and send it on. 40 mins of the NEW 5 G ROLL OUT and the complete suppression and intimidation involved-----literally your life and future generations will suffer.
Deep State occult election 2016. A very brilliant assessment OF THE MADNESS OF THE THE ELECTION THE DEATHS AND PAST LINKS. 50 mins.
21 mins of an amazing vaxed storey PLEASE THINK EARNESTLY BEFORE SOME VACCINATIONS. IF THEY ARE TAKEN FROM SOURCE AND DO NOT HAVE THE ADJUTANTS ADDED THEN IT MAY BE ACCEPTABLE.
HELLO HILA20 mins of a mind boggling intrigue and conspiracy---I found it fascinating.
3-4-5 The Finger of Fate. Steve Judd. 9 mins. I can only say the same as he expresses I did say 2016 was and is weird one.
▼
Aug
(7)
THIS IS WHAT HAPPENED TO POST 281 ---IF YOU CARE TO READ IT GO TO MENU RIGHT HAND SIDE ----CLICK ON ARROW FOR AUGUST ---- IT SHOULD TURN DOWN AND THEN CLICK ON POST. HOW IT GOT THERE???!

.

KEEP WELL AND BE WELL. GEOFF