Hi There. In many of my Posts I have mentioned the independent dependence in Nature and in the Cosmos Ecological System, the patterns, cycles and so on, so many more are being connected, the dots and the dashes coming together to show a symbiotic relationship even with heavenly bodies. Doesn't this show us we should all co operate as world of peoples and countries and then revere and respect nature and her populations.
IN THE ADDENDUM I plead with you to look at the long VIDEO------THANK YOU.
NEW MAPS OF THE SOUTH ATLANTIC ANOMALY:
Researchers have long known that one of the van Allen Radiation Belts dips down toward Earth over South America, creating a zone of high radiation called "
The South Atlantic Anomaly
" (SAA). Since its discovery in 1958, the SAA has been shape-shifting, growing larger and intensifying. A map published just last week in the American Geophysical Union's journal
Space Weather Quarterly
outlines the anomaly with new precision: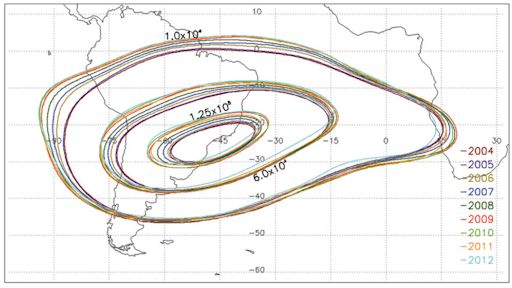 When a spacecraft in low-Earth orbit passes through the anomaly, "the radiation causes faults in spacecraft electronics and can induce false instrument readings," explains Bob Schaefer of the Johns Hopkins University Applied Physics Lab, lead author of
the paper
reporting the results. "We actually used these spurious signals to map out the radiation environment at an altitude of 850 km."
Specifically, they looked at pulses of noise in an ultraviolet photometer carried aboard many polar orbiting Defense Meteorological Satellite Program (DMSP) satellites. When high-energy protons in the SAA pass through these sensors, they produce spurious signals--or, in the case of this study, valuable data. By monitoring the rate of spurious UV pulses, the researchers were able to trace the outlines of the anomaly and monitor its evolution over a period of years.
They found that the anomaly is slowly drifting north and west at rates of 0.16 deg/yr and 0.36 deg/yr, respectively. Currently, it is most intense over a broad region centered on Sao Paulo, Brazil, including much of Paraguay, Uruguay, and northern Argentina. They also detected a seasonal variation: On average, the SAA is most intense in February and again in September-October. In this plot, yearly average counts have been subtracted to reveal the double-peaked pattern: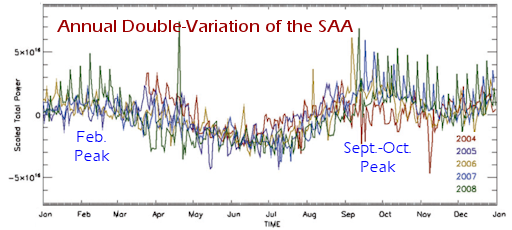 One maximum coincides with an equinox, but the other does not. The authors were not able to explain the origin of this unexpected pattern.
The solar cycle matters, too, as the data revealed a yin-yang anti-correlation with sunspots. "During years of high solar activity, the radiation intensity is lower, while during solar quiet years the radiation intensity is higher," writes Schaefer.
According to orthodox thinking, the SAA reaches down from space to within about 200 km of Earth's surface. Below that altitude, its effects should be mitigated by the shielding of Earth's atmosphere and geomagnetic field. To test this idea, Spaceweather.com and
Earth to Sky Calculus
have undertaken a program to map the SAA
from below
using weather balloons equipped with radiation sensors. Next week we will share the results of our first flight from a launch site in Chile. Stay tuned!
(grateful thanks to SpaceWeather.com)
Indoor sky diving, silver medalists ---Mad Ravens -2 mins
I've never seen this before and
Indoor skydiving is an emerging
sport and the Prague-based Mad
Ravens are among the most
accomplished synchronized indoor
Check out their spectacular anti-
gravity feats in a specially-designed
vertical wind tunnel. (From Alexandra Bruce Forbidden Knowledge.)
FBI RELEASES TESLA CLASSIFIED DOCUMENT 4 mins
This is a hidden interview with Nikola Tesla said to 116years old. 33 mins
Although some say it is a fake ---its make up your mind time. Apparently the old recording was so distorted it has been computer enhanced. I have heard of these enhancements before, they do it with old movies as well.
HOW ABOUT THIS COMMERCIAL? 3 mins
Testing of implants. 11 mins.
Years back in energygrid I followed and interviewed some people in the Midlands and South Wales and corresponded with a person and scientist in Sweden. These people complained they had implants and that they were stalked by Black Cars and when the cars were challenged by a group who defended these people they found in one captured car instruments that could pick up on the implants. The people involved in Sweden were Dentists and their patients, even years back the practice shut down and smashed up, and one Dentist and patient were never seen again. Things have got more sophisticated now.
This is the story of a Vimana found in Afghanistan. 15 mins. I ran this several times in different aspects in this site and the grid. Also the sites in ancient India where radioactivity is found in the soil to elevated levels and the charred remains of stones and rocks suggest an ancient battle took place there. Also reading of Dr Sitchin's book 'The 12th Planet and Dr Joseph F Blumrich's book 'The Spaceships of Ezekiel' ( designer of the Saturn 5 Rocket Blumrich) suggest that ancient battles took place, using Vimana's
I tried to Post this only several Posts Back and then Back from then and it got removed. Let's hope three times lucky. 15 mins. KEEP ON TO THE END AND THEN WAIT TO SEE WHAT FOLLOWS, THERE ARE SO MANY CORROBORATIVE VIDEOS, ACTUAL LIVE INTERVIEWS AND RELATED SUBJECTS.
http://www.energygrid.com/futurity/geoff-freed/2005/05.html
There are lots of stories especially this year of Giants and coming back through portals to eat us and take over the Earth, you can see this in the follow ups that I mention in capital letters above. The Return of the Nephillim. I think they will return in some form and I do think now they are cannibals.
My story is different;- there is talk of Giants in Underground bases captured by the elite and have been found in Stasis Chambers. I have mentioned in my UFO Story as in the Grid above
From the Grid article; "
The five races are: firstly, beings that are bipedal and are about 8-11 feet tall and weigh from 19 to 33 stone. They have been seen in many places, and even their "coffins" have been found in deep caves. Tibetan Lamas have told me that they are the senior race on Earth and originally known as Els. Their brief is to gather information from the other four races and inform the Hierarchy and Sirius."
Here is a Post 222 http://www.geofffreed.com/search?q=Cave+of+the+Dead which describes Giants in a different light entirely, they are called the 'Els' there are several accounts in the article and they are mentioned in the Grid link above in May 2005 UFO STORY. I have seen some ------it is a sensitive story so I will leave it out(oh! I hear some say, it's the old story, protecting those who may be threatened, well in this case myself).
Anyway they are and were in Stasis. They will awaken when enough of us have awakened to the Ascension Status, my guess from 2017/2032/2075 as mentioned in my 1967 writings.
DOES ALIEN LIFE FEED ON COSMIC RAYS?
The discovery in South Africa of a microbe that gets energy from radioactive uranium has astrobiologists wondering ... could microbes in space feed on cosmic rays? Theoretically, high-energy cosmic rays could trigger the same kind of biotic chemistry that sustains
Desulforudis audaxviator
in South Africa's Mponeng gold mine. This would make any planet with weak shielding from cosmic rays--or even space itself--a potential habitat for cousins of
D. audaxviator.
Get the
full story
from Science magazine.
(Courtesy Spaceweather.com)
When I read the above I went cold and shuddered from head to toe and my heart raced. In my 1967 writings it was stated that some ET did not eat solid food and some eat bacteria whilst the Els feed of of Cosmic Energy mainly Cosmic Rays. The reasons being that they contained codes and signals for DNA and so converted their nourishment accordingly, they ate the essence of food, the frequency of food. Another confirmation of the 1967 writings.
http://www.sciencemag.org/news/2016/10/alien-life-could-feed-cosmic-rays, I do not agree with everything but in view its getting closer to my take on Cosmic Energy and in particular Rays.
http://www.sciencemag.org/news/2016/10/alien-life-could-feed-cosmic-rays
IN THIS WONDERFUL BOOK THERE IS A REFERENCE TO A YOGINI(FEMALE YOGI) THAT INGESTS ENERGIES FOR FOOD THROUGH THE BACK OF THE NECK, THE MEDULLA OBLONGATA.
PLEASE KINDLY READ POST 270 JULY 2016 (A SAMPLE FROM THE POST)
. Furthermore, there are studies linking cosmic rays with cardiac arrhythmias and sudden cardiac death in the general population. Among patients who have an implanted cardioverter – defibrillator (ICD), the aggregate number of life-saving shocks appears to be correlated with the number of cosmic rays reaching the ground.

References:

#1, #2, #3, #4.
http://www.huffingtonpost.co.uk/entry/second-earth-four-light-years-away-could-host-some-forms-of-life_uk_57f
ABOVE TOP SECRET ---FULL DOCUMENTARY ABOUT ALIENS. 1hr.
Credits: ESA/NASA/JPL-Caltech
Life exists in a myriad of wondrous forms, but if you break any organism down to its most basic parts, it's all the same stuff: carbon atoms connected to hydrogen, oxygen, nitrogen and other elements. But how these fundamental substances are created in space has been a longstanding mystery.
Now, astronomers better understand how molecules form that are necessary for building other chemicals essential for life. Thanks to data from the European Space Agency's Herschel Space Observatory, scientists have found that ultraviolet light from stars plays a key role in creating these molecules, rather than "shock" events that create turbulence, as was previously thought.
Scientists studied the ingredients of carbon chemistry in the Orion Nebula, the closest star-forming region to Earth that forms massive stars. They mapped the amount, temperature and motions of the carbon-hydrogen molecule (CH, or "methylidyne" to chemists), the carbon-hydrogen positive ion (CH+) and their parent: the carbon ion (C+). An ion is an atom or molecule with an imbalance of protons and electrons, resulting in a net charge.
"On Earth, the sun is the driving source of almost all the life on Earth. Now, we have learned that starlight drives the formation of chemicals that are precursors to chemicals that we need to make life," said Patrick Morris, first author of the paper and researcher at the Infrared Processing and Analysis Center at Caltech in Pasadena.
In the early 1940s, CH and CH+ were two of the first three molecules ever discovered in interstellar space. In examining molecular clouds -- assemblies of gas and dust -- in Orion with Herschel, scientists were surprised to find that CH+ is emitting rather than absorbing light, meaning it is warmer than the background gas. The CH+ molecule needs a lot of energy to form and is extremely reactive, so it gets destroyed when it interacts with the background hydrogen in the cloud. Its warm temperature and high abundance are therefore quite mysterious. (GETTING NEAR THE ESSENCE AT LAST---MORE NUDGES NEEDED)
James Corbett ------of nearly all the sites like this I value James as true journalist and reporter. Time and time again I have checked his information------this one from contacts in Ukraine, Iraq, Iran, Russia, USA whistleblowers, sons of friends of mine who are in the military and they always check out. 18 mins pure true fact in my opinion. A repeat but not I hope in vain.
There's been a major discovery about spinal cord injury—often seen as a life sentence—that opens up the possibility of a full recovery.
Researchers have discovered that spinal injuries cause a fundamental change to the type of bacteria living in the gut, and it is this that affects nerve signalling, which is the most significant symptom and the major block to a full recovery.
Eating probiotics helps re-establish the gut's 'good' bacteria, and this could help kick-start communication between the nerves and reverse neurological damage.
Researchers from

Ohio

State

University

have discovered that the trillions of bacteria in the gastro-intestinal tract—collectively known as the gut microbiome—are overwhelmed by inflammatory bacteria when the spinal cord is damaged. This dysbiosis, or gut bacteria imbalance, could happen when someone with spinal injuries loses bowel control, the researchers think.

The biggest changes to the gut bacteria also resulted in the poorest recovery from the injuries, say the researchers in experiments with laboratory mice.

Probiotics, containing lactic acid-producing bacteria, activate regulatory T-cells, the gut's equivalent of immune cells, which suppress inflammation. In turn, this repairs spinal cord injury and helps improve neuronal growth and function.

Specialists need to stop focusing only on the spine, but instead start looking at the health of the gut as well, says lead researcher Phillip Popovich.

This latest discovery adds to the evidence about the vital function our gut microbiome plays. Autoimmune diseases, such as multiple sclerosis (MS), type 1 diabetes and rheumatoid arthritis, have been linked to gut dysbiosis, and it's also been associated with the progression of neurological disorders such as autism, pain, depression, anxiety and stroke.

BE, VERY, VERY WELL. Geoff
ADDENDUM
Gandhi called it soul force. 21 mins of wisdom and beauty with words.
This 1hr. 37 min video and although you may not have time. COULD SAVE YOUR LIFE. I have stated for so long now that 'IF WE GET THROUGH 2016 RELATIVELY UNSCATHED WE WILL BE FORTUNATE' THIS IS PERSONALLY, RELATIONSHIPS, GLOBALLY. PLEASE DEAR ONES LOOK AFTER YOURSELF AND TAKE CARE. YOU ARE PRECIOUS. ALTHOUGH I DO NOT KNOW MANY OF YOU I REACH OUT AND PRAY FOR YOUR SAFETY.