Hi Geoff,
This week Anthony (below) along with Peter, Paul, Hernan, Anne, Mannes, Iain, David, Jonathan, Colin, Ruslan, Alexandre, Francesco, Cristian, Ana Paula, Ekaterina, Gizem, Camila, Sini, Tomasz, Marco, Phil, Faiza, Dima, Alexandra, Frank, Denis, Kieron, Roman and Andrey, were in court again. Sadly, the judge refused to release them on bail.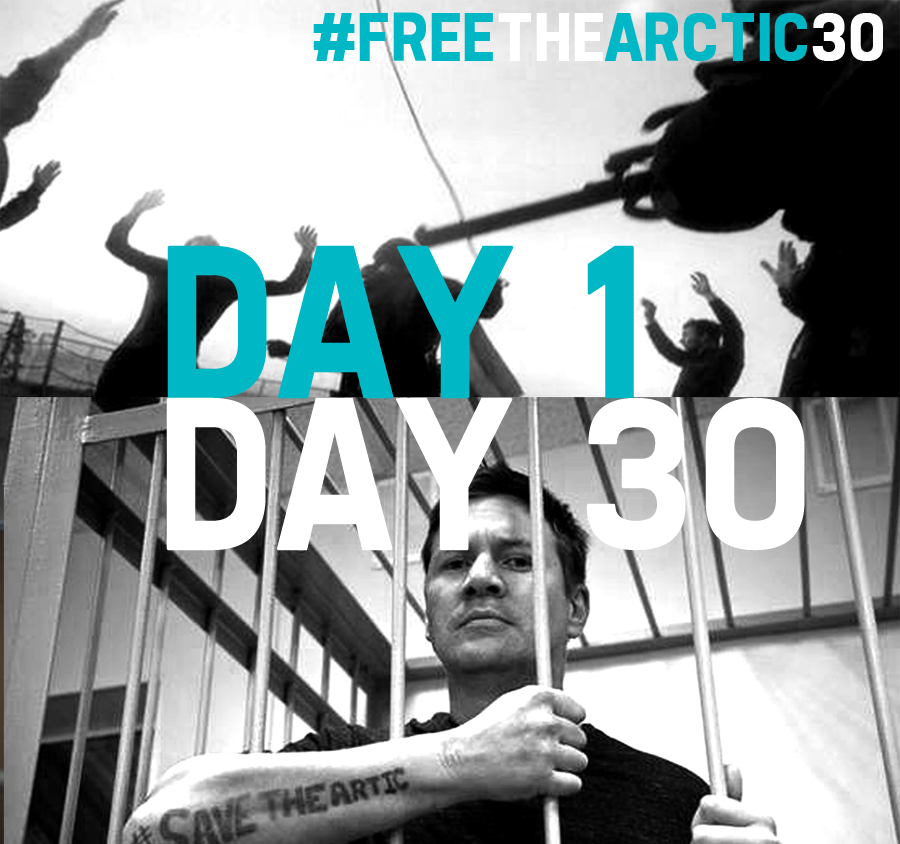 It has been 30 days since Russian agents stormed the Arctic Sunrise and arrested all 30 people on board. It has been 30 days of injustice but pressure is mounting.
This week, 11 Nobel Peace Prize winners including Desmond Tutu and Betty Williams wrote to President Putin to ask him to ensure the piracy charges against the Arctic 30 are dropped. In a personal phone call German Chancellor Angela Merkel expressed her concern over the imprisonment of the 30 and hoped the case would be resolved soon.
The UK's foreign minister William Hague has spoken to his Russian counterpart and the Prime Minister David Cameron said in parliament this week that he's asking for daily updates on their situation. They join a growing list of senior politicians, including from Brazil, the US and the Netherlands, who have spoken out publicly about the Arctic 30.
Public pressure is working and will make a difference. It's critical that we make sure the fate of our friends and fellow activists doesn't fall off the news agenda - and we can all help.
Let's keep doing all we can to get them out,
Fran
PS it's difficult to write on your own arm when you're on your own in a cold Russian jail cell. Spelling slip-ups will always be forgiven :)
---
We don't accept any money from companies or governments so we can be independent and challenge anyone who threatens the planet or peace. To help us keep fighting climate change, defending our oceans and protecting ancient forests, you can
make a regular donation by direct debit
. Thank you!
If you no longer want to be in the loop with the latest news from these emails, we'll be sad, but you can
unsubscribe here
.
Greenpeace Ltd, Canonbury Villas, London N1 2PN (registered in London no 1314381, VAT registration no 625951426)
FOLLOW ON FROM PREVIOUS POSTS TITLED 'MOTHER RUSSIA'