Dear Reader I trust you are well and thriving and greetings to your essence and the loveliness we all are when we discover who we really are and the veneer of conditioning removed. When I was married I used to watch Gilly remove her nail varnish and I felt we need to strip the muck and bitterness, cultural divides and get to the 'bare' nail.
I am truly sorry to have to show this, because I love Whales, yet we need to see these things, to awaken the disgust of what we can be and aspire to be something wonderful.
I wonder if these films were made on the above documentary or an idea inspired from it?
Implementing a comprehensive company wellness program is a win-win for both the employers and employees and can save companies millions in health care costs and increased productivity

Companies that have implemented workplace wellness programs, such as offering free fitness classes during lunch hours and access to healthier foods, have seen healthier, happier employees and significantly lower company health care costs

Companies are well advised to take a simple survey to find out which programs most interest their employees, and provide positive incentives for participating
Exercise is a foundational strategy to naturally maintain healthy cholesterol levels and optimize your heart health. However, research now shows that if you take a statin drug, you're likely to forfeit any and all health benefits of your exercise

Volunteers taking a statin improved their fitness by just 1.5 percent, and some had reduced aerobic capacity at the end of a 12-week fitness program. Mitochondrial content activity also decreased by an average of 4.5 percent

In comparison, unmedicated volunteers improved their aerobic fitness by more than 10 percent after the 12-week fitness program, and their mitochondrial content activity increased by 13 percent

Statin drugs, which millions are taking as a form of "preventive medicine" to protect their heart health, can have detrimental effects on your heart
During solar minimum the Sun's magnetic field, like Earth's, resembles that of an iron bar magnet, with great closed loops near the equator and open field lines near the poles. Scientists call such a field a "dipole." The Sun's dipolar field is about as strong as a refrigerator magnet, or 50 gauss. Earth's magnetic field is 100 times weaker.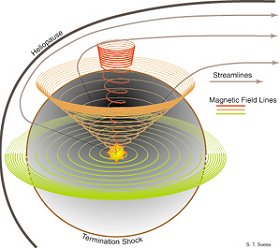 During the years around solar maximum (2000 and 2001 are good examples) spots pepper the face of the Sun. Sunspots are places where intense magnetic loops -- hundreds of times stronger than the ambient dipole field -- poke through the photosphere. Sunspot magnetic fields overwhelm the underlying dipole; as a result, the Sun's magnetic field near the surface of the star becomes tangled and complicated.
The Sun's magnetic field isn't confined to the immediate vicinity of our star. The solar wind carries it throughout the solar system. Out among the planets we call the Sun's magnetic field the "Interplanetary Magnetic Field" or "IMF." Because the Sun rotates (once every 27 days) the IMF has a spiral shape -- named the "Parker spiral" after the scientist who first described it.
Above
: Steve Suess (NASA/MSFC) prepared this figure, which shows the Sun's spiraling magnetic field from a vantage point ~100 AU from the Sun.
Earth has a magnetic field, too. It forms a bubble around our planet called the magnetosphere, which deflects solar wind gusts. (Mars, which does not have a protective magnetosphere, has lost much of its atmosphere as a result of solar wind erosion.) Earth's magnetic field and the IMF come into contact at the magnetopause: a place where the magnetosphere meets the solar wind. Earth's magnetic field points north at the magnetopause. If the IMF points south -- a condition scientists call "southward Bz" -- then the IMF can partially cancel Earth's magnetic field at the point of contact.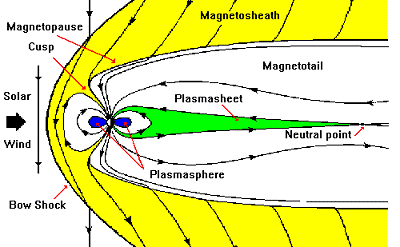 Above
: Earth's magnetosphere. From the Oulu Space Physics Textbook.
"When Bz is south, that is, opposite Earth's magnetic field, the two fields link up," explains Christopher Russell, a Professor of Geophysics and Space Physics at UCLA. "You can then follow a field line from Earth directly into the solar wind" -- or from the solar wind to Earth. South-pointing Bz's open a door through which energy from the solar wind can reach Earth's atmosphere!
Southward Bz's often herald widespread auroras, triggered by solar wind gusts or coronal mass ejections that are able to inject energy into our planet's magnetosphere.
Energy is everything. Without enough of it, important internal functions as well as physical activity is limited. But the ramifications of energy deficiency go well beyond the typical list of
mitochondrial diseases
that are well-known to medicine; it contributes directly or indirectly to all diseases, especially chronic and degenerative disorders, ranging from chronic fatigue syndrome and fibromyalgia, to neuropathic pain syndromes, dementia and Alzheimer's disease, through to obesity, diabetes and even heart failure and various cancers. In short, a lack of energy within the system is often the reason why the tremendously intelligent self-regulatory or self-healing systems within our bodies become compromised.
Energy fundamentals
Key steps in cellular respiration: from glucose to ATP, via the Krebs cycle and the electron transport chain
Energy dysfunction and disease
Among the most important mechanisms for increasing mitochondrial concentration and activity are:
Contributors to the IFM's "Healthy Aging Core Food Plan",from left to right: Dr Kristi Hughes, Dr Terry Wahls, Michael Ash DO, Meleni Aldridge BSc, Dr Catherine Willner, Lyra Heller MA, Dr David Perlmutter, Barb Schiltz RN, Deanna Minnich PhD, Dr Mark Houston. Dr Stephen Sinatra, was also a contributor, but absent.
Memorable quotes from this year's IFM symposium
David Rakel MD
, physician, researcher and author of
Integrative Medicine
, explained that,
"Habituated neuro-networks of comfort are so hard to get out of — and they're a good reason why so many doctors have difficulty believing the stuff they didn't learn at med school."
Emphasising the importance of empathy in a clinician's approach to his or her patients, Dr Rakel provided research evidence that showed that
"empathy has been trained out at medical schools."
He added,
"Bureaucracy expands to meet the needs of the expanding bureaucracy".
Neurologist
David Permutter MD
is a strong protagonist of ketogenic,
grain-free
diets and exercise as the primary means of preventing or even reversing neurodegenerative diseases such as Alzheimer's disease. In his opening lecture, he told the 1200-strong audience of clinicians, scientists and researchers that;
"While the research into ketogenic diets might have started around 1921, humans first went on ketogenic diets around 2.6 million years ago."
Emphasising the point further, he said,
"There is no diet than can do better than a ketogenic dietary change."
Jeff Bland PhD emphasised that complex systems such as rainforests tended to be stable systems, while simples ones, such as a cornfield, were unstable. This analogy could be applied to energy networks in human beings, as well as their optimisation by dietary and lifestyle means. Resilience is increasingly being seen as the ultimate marker of an individual's health. Commenting on this, Dr Bland said, "Response of the expression of your genes to your environment gives you your resilience to a changing environment". He added, "Medicine for the individual is emerging, while medicine for the average is gone."
Dr Bland stressed the difference between different types of fat in the body, contrasting especially 'angry fat' from what he referred to as
"ho-ho-ho Santa Claus"
friendly fat. Adding to this, he suggested that one big pizza meal with sodas (including glycated proteins, unhealthy fats and high sugar content) will
"turn on the inflammasome"
in the gut.
Rollin McCraty PhD, executive vice president and director of research of the
Heart Math Institute
, defined resilience as
"The capacity to prepare for, recover from, and adapt in the face of stress, challenge or adversity."
Anthropologist and shaman, Alberto Villoldo PhD, founder of the
Four Winds Society
reminded participants that over the majority of the 2.6 millions years of human existence, humans were not so much hunter/gatherers, but scavenger/gatherers. He said that hunting was always difficult and we ate what we could and had to endure long periods of fasting between meals. Summing up, he opined:
"A bunch of guys would go out and find some roadkill, clean it up, then come back and say 'hey honey look what I've caught for us to eat, can we have sex now?"
He added that during fasting, the insulin/glucose control system was turned off and that we had to go into the ketogenic state to fuel the brain. Which is why we're so well adapted to fasting rather than feasting!
Call to Action
I felt this to be so important as to make it a Post on its own along with more health facts.
The following is from the Indian Journal of Medical Ethics
"Furthermore, while India has been polio-free for a year, there has been a huge increase in non-polio acute flaccid paralysis (NPAFP). In 2011, there were an extra 47,500 new cases of NPAFP.
Clinically indistinguishable from polio paralysis but twice as deadly, the incidence of NPAFP was directly proportional to doses of oral polio received. (the vaccine contains a synthetic polio virus and not the wild polio virus found in nature)
Though this data was collected within the polio surveillance system, it was not investigated. The principle of primum-non-nocere was violated.
Synthetic polio makes eradication impossible
"The charade about polio eradication and the great savings it will bring has persisted to date. It is a paradox, that while the director general of WHO, Margret Chan, and Bill Gates are trying to muster support for polio eradication it has been known to the scientific community, for over 10 years, that eradication of polio is impossible.
Wimmer writes that the test-tube synthesis of poliovirus has wiped out any possibility of eradicating poliovirus in the future."
The elephant in the room: the problem of non-polio Acute Flaccid Paralysis (AFP)
It has been reported in the Lancet that the incidence of AFP, especially non-polio AFP has increased exponentially in India after a high potency polio vaccine was introduced (25).
In 2005, a fifth of the cases of non-polio AFP in the Indian state of Uttar Pradesh (UP) were followed up after 60 days. 35.2% were found to have residual paralysis and 8.5% had died (making the total of residual paralysis or death – 43.7%) (28). Sathyamala examined data from the following year and showed that children who were identified with non-polio AFP were at more than twice the risk of dying than those with wild polio infection (27).
This is because in 2002 scientists had synthesised a chemical called poliovirus in a test-tube with the empirical formula C332,652H492,388N98,245O131,196P7,501S2,340. (this is the man-made virus in the vaccine)
http://www.youtube.com/watch?v=sG3yE9xllwg&feature=player_embedded
Be Well. Geoff
Addendum
Former Drone Officer disgusted with himself.
Illinois Senator Durbin is planning to reintroduce his supplement bill, the Dietary Supplement Labeling Act (S 1310), which would grant more power to the FDA to regulate dietary supplements like they were drugs; Durbin first introduced S 1310 in 2011, but it failed miserably, as have many of his other attempts to pass laws attacking the supplement industry

Durbin's citing of the 2013 GAO Dietary Supplements report, which details adverse effects reports (AERs) associated with supplements, backfires in that it demonstrates just how safe supplements are, compared to vaccines and drugs

Based on the GAO report, there were 488 times as many adverse reactions reported for prescription drugs as from dietary supplements, and there is no evidence supporting the claim that adverse reactions to supplements are underreported; data from poison control centers confirms their safety

The financial burden created by Durbin's proposed legislation will likely cause many supplement companies to go under; and, as a result, the cost of your supplements will likely skyrocket and, more importantly, your supplement choices will be limited

Manufacturers are migrating products previously classified as "supplements" into the category "food products" in order to sidestep the tighter regulations imposed on supplements, and this loophole is completely ignored by the Durbin bill
Here we see the Universal copying of Codex and the EU(now European Union of Monsanto), the same old, same old. Kill anything natural, take away the profits from Big Pharma not on, give them chemicals, more laws, more control, take choice away.
Take care and lots of Love and good tidings. Geoff
http://www.youtube.com/watch?feature=player_embedded&v=7BmdovYztH8#at=64
Obama Monsanto on Prism. What a load of tosh. 3 mins.
http://www.youtube.com/watch?feature=player_embedded&v=PEYQ6OBEq4Q
2 mins of a brave USA Colonel on. Way to go.
The People's Voice closing in on today's target with just 11 days to go

The People are speaking already - we have had enough and the world is going to change

The total has reached £185,000 so far with a target of £200,000 by the end of today on our way to the at least £300,000 that will pay for the technology and key personnel to take us to air as a top class 24-hour uncensored global TV and radio station in which the information will be the 'star'.

We will be broadcasting daily out of the UK and US with other programmes in the planning for Australia, the Middle East, Africa and other parts of the world.

We have 11 days left and the more that is donated the bigger and better we will be. This is a non-profit making adventure and every penny will go back into the station ongoing.

Why should The People not have a voice with the same level of technology and communication potential as the mainstream media which denies The People a voice?

We have a fantastic team of media professionals being assembled who are willing to take this station to air for a fraction of the cost of the mainstream media, but with the same standard and quality and with truth as their goal, not corporate profit or the Establishment song sheet.

All we need is the funds to do that and we estimate this to be at least

£300,000

.

---




New Goals for the non-profit People's Voice so that we can really make a difference:

£200,000

by Thursday 20th June

If we reach this goal we will invest in leasing two 'outside broadcast' units, one for London and the other for the U.S., that will enable us to dispatch a reporter and cameraman at a breaking news story and transmit the video back to the studio live in HD quality (using similar units that are often dispatched by the likes of Sky News and other mainstream media outlets).

Think about the recent Boston bombings or the Woolwich incident in London - with this equipment we would have been able to send our team out to these locations to find out what really happened. Interviews with eyewitnesses on the scene wouldn't have gone through the usual media censor before reaching the public.

Please donate and share this far and wide

AT LEAST

£300,000

by June 30th

Then it won't be just be a voice, it will be a ROAR.

Come on - we can do this and the chance will almost certainly never come around again. It is time to grasp it while there is still time to grasp it.

We'll do the work, we'll take the risks, but we need your support to make this happen on a scale that will make the difference.

HOW BADLY DO THE PEOPLE WANT A VOICE?

---

Private Donations

Private donors to The People's Voice Appeal can send cheques made payable to Peoples Voice Broadcasting to the following address:

The Peoples Voice
Suite 4, 185a High Street
Ryde
Isle of Wight
PO33 2PN
United Kingdom
COME ON FOLKS WALK OUR TALK. DO YOU WANT GM, CHEMTRAILS, MERCURY VACCINATIONS, AUSTERITY MEASURES, CORPORATIONS NOW WANTING TO OWN WATER, FAT CATS LIVING OFF OF SLAVERY, HOW FEARLESS ARE YOU, HOW SUBMISSIVE ARE WE. WE ARE ALL SLAVES IF WE LIVE IN FEAR. I KNOW I AM COWARD IN MANY WAYS. I OWN UP TO IT, I AM NOT ASHAMED, I OWN IT, ENDEAVOUR TO FACE AND WALK THROUGH IT, NOT PUSH IT DOWN, GIRD UP MY LOINS AND SAY ' THIS DOES NOT BOTHER ME', IT DOES AND I BREATHE, FEEL IT, TAKE IT ON BOARD AND LET IT DISSIPATE, I STILL HAVE THE ISSUE IN MIND, BUT THE FEAR HAS GONE AND I WILL BLOG, POST AND DO MY BIT AS BEST I CAN. YET WITH GOODWILL AND KNOWING I HAVE JOINED THE UNIVERSAL LAW WHICH SAYS 'A WORLD THAT WORKS FOR EVERYONE EVERYWHERE'
I check the posts on Firefox and Internet explorer, and the post is produced on Chrome. It seems OK on Firefox yet no matter what I do I get the red smudges on Internet Explorer, I have eliminated the blank squares and am working on the smudges. It seems the software and compatibility on Internet Explorer will not interface, however it does not affect the read print. Sincere apologies.